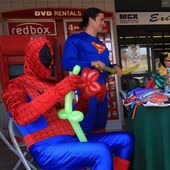 Superman VS Spiderman - 7:13:19, 6.22 PM - Actors, Stories, & Film (Lounge Show)
Story by: Gail L. Nobles Keyboard player by: Gail Nobles Actors by: Gail Nobles Sound effects of web webshooter: Soundbible.com and https://www.freesfx.co.uk Stan Lee info: Superman VS Spiderman comic
https://www.spreaker.com/user/gnaudio/superman-vs-spiderman-7-13-19-6-22-pm
Since I was a little girl, I have been reading Marvel Spiderman and DC Superman comic books. I have enjoyed some of the films and movies I have seen on the both of them. I still have a giant DC comic book about both of them together joining forces.
https://en.wikipedia.org/wiki/Superman_vs._The_Amazing_Spider-Man
My podcast is about that adventure. You'll hear how Stan Lee from Marvel Comics and Carmine Infantino from DC comics collaborated on strips together in the early days of comics. Stan wrote them and Carmine drew them. Find out more from the podcast.